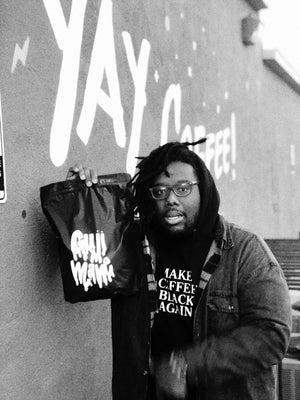 Save 30% on your coffee bill and get 7 bags worth of coffee for the price of 5. 5 Lbs of fresh roasted african gxld. For the serious coffee head only.
From the Hamella washing station in the Sidamo Guji region of Ethiopia, this washed coffee reminds us of cherry jolly ranchers and Portillos chocolate cake shakes. It was roasted in collaboration with Ethnos Coffee to be drank while listening to southern rap. 

In July of 2019, Matt Mages—a storied local DJ that I've been collaborating with for most of 2019 through Cxffeeblack, the lifestyle brand I founded—asked me this question after a studio session. Ethiopian coffee isn't the expected drink of choice for a hip hop studio that has recorded the likes of Memphis rap legends 8ball and MJG, but for us it was the norm. We spent most of the last two years recording live hip hop improvisation sessions over freshly brewed pour-overs. We called it On the Spot.  Hip hop is all about the vibe, and although we all loved coffee, there was always some dissonance, getting coffee from third wave coffee shops and leaving to go record a bunch of freestyled bars over trap drums and blues guitar.
When Matt suggested that we make our own brand of coffee, the idea felt impossibly perfect. It was so Memphis, and so indicative of all the things we wanted to see in the coffee industry, and the rest, as they say, is history.