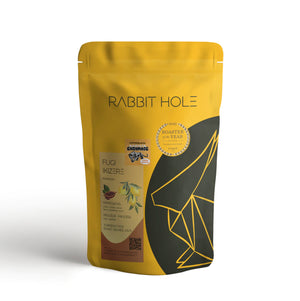 FUGI IKIZERE x Rabbit Hope Roasters// Black Barista Program Diaspora Coffee Drop #1
The first of three  limited edition coffee collaborations with some of favorite roaster around the world to support the upcoming black barista exchange program. 


Ppeep the description from our canadian homies at Rabbit Hole 👇🏿
Impressions: lemon, blackberry, cacao, rhubarb
Roast degree: medium (2.5/5)

Country: Rwanda
Region: Southern Province
District: Nyaruguru District
Variety: Red bourbon
Process: Washed
Export partner: Baho Coffee
Partner importer: Semilla
Farmers: 23 smallholder women producers (names in our transparency report)
This coffee supports our friends over at Cxffee Black and their Barista Exchange program!You can donate directly, or go browse their shop for some cool merch!
Cxffee Black is a social enterprise connecting the dots between Black History and Black coffee.
Until August, we will donate $20/kg of our roasted Fugi lot to their fundraiser. 
The Fugi Ikezere is back for a second year! This producing group is an all-female operation that it is made up of single mothers, many of whom are widowed. They face the difficult task of navigating Rwandese society which is still plagued with patriarchal discrimination and gender biases. Supporting those women was important to Baho and Semilla, and we are glad to be able to offer this to you.

By buying this coffee, you contribute not only to an important project to reconnect African American to coffee's roots in Ethiopia, but also to women empowerment and positive social development in Rwanda.
A few words from the importer, Semilla:
"Back in 2019, Emmanuel (from Baho) presented to us a handful of lots that were traced back to communities living on specific hills near his washing stations. As this is quite unique for East African coffees, this initiative immediately sparked our interest and kickstarted our discussions on how we could expand and deepen this type of traceability.

As buyers, it's always exciting to find more information about where coffee is coming from; but additionally, Emmanuel made it very clear that it was helpful to Baho and their producer network as well. By connecting more closely with producers this way, we're able to ensure we continue to build with them into the future and this motivates these growers to work with Baho, and also inspires growers around them as they see a possibility not only for solid pay for their coffee cherries, but also for recognition and relationships not normally offered to smallholder growers."