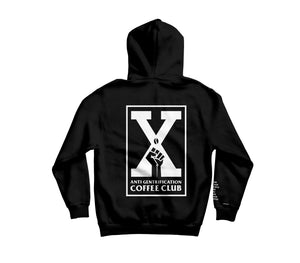 ANTI GENTRIFICATION CXFFEE CLUB HOODIE
love single origin neighborhoods like you love their products.
Watching our community put their hands on coffees grown by our cousins on the continent has been the most beautiful thing. Watching US teach US about US. Its magical. This is not a coffee shop. This is not a wave. This is not a black box on IG For a trendy 24 hours. This our history, our heritage, and our neighborhoods. This is the #antigentrificationcoffeeclub , and we here to stay. Join the movement. Hoodies shipping out in two weeks. #cxffeeblack
this hoodie is dedicated to even who's wondered why people driving from the burbs to the coffee shop being built in their hood is won't look them in the eye as the rush in.
this hoodie is for anyone whose wondered how business built on brews from africa, south asian, and south and central america, somehow magically have no people from those places behind the bar, on the playlist, or in the line. 
this hoodie for anyone whose ever been told bring us these issues makes them "divisive" or "arrogant". 
this hoodie is for anyone who has thought these things. but didn't say them because they needed the 7$ an hour job to pay the rising in the rent in the neighborhoods these shops gentrify.
this hoodie is for us.
*designs by Rj Collectives