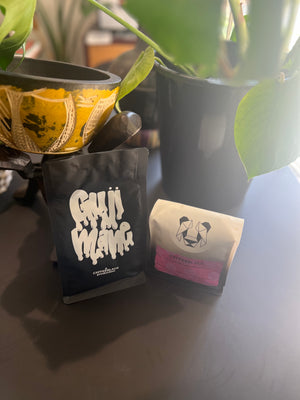 Anti Gentrification Coffee Club Subscription Box (2 Bags of coffee a Month) [ships third week of each month]
We'll ship a bag of Guji Mane coffee direct to your door every month so that you can make and drink the perfect cup along with the cxffeeblack fam as we walk through our 12 core principles of the our vision for the future of coffee committees.  

By joining our coffee subscription you help create predictable monthly income to support our payroll, our SIT internship, and first sip program. As we grow our anti gentrification coffee club member shop we can keep providing jobs and affordable access to coffee education to our hood and beyond. 
We truly believe coffee can be more than a means for gentrification, elitist consumerism, and hypercapitalism; it can be what our cousins in the Guji Zone of Ethiopia taught us when we visited to learn about indigenous pre-colonial coffee culture. It can be seeds of peace, between us, God, and creation. If you feel the same, tell a friend to consider joining the Anti-Gentrification Coffee Club Subscription, and help create a world where we all lack no coffee nor peace in our collective hood. —