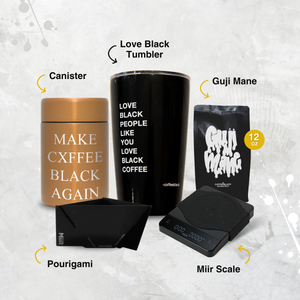 Limited Edition 'Coffee Nerd' Bundle
Embark on a refined coffee journey with our exclusive 'Coffee Nerd' Bundle, thoughtfully curated for true coffee aficionados.
What's Inside:
Miir Digital Scale: Precision is key in brewing the perfect cup. The Miir Digital Scale brings accuracy to your fingertips, ensuring the ideal coffee-to-water ratio every time.

Canister (Copper or Black Coffee): Store your beans in style. Our sleek canister comes in two elegant colors (subject to availability): rich Copper or classic Black Coffee. Airtight and durable, it's the perfect guardian for your precious beans.

12oz Bag of "Guji Mane" Coffee Blend: Experience the crowd favorite "Guji Mane". This 12oz bag of our best-selling blend boasts a symphony of flavors, sure to delight your palate with every sip.

Pourigami: The art of coffee on-the-go. This ingenious, portable pour-over system is a minimalist's dream, ensuring you never have to compromise on quality, no matter where you are.

Miir 'Love Black People Like You Love Black Coffee' 12oz Tumbler: Make a statement while sipping your brew. This 12oz Miir Tumbler isn't just a vessel for your coffee; it's a conversation starter, blending style with a powerful message.
Limited Quantities Available!
Grab this bundle and elevate your coffee experience. Perfect as a gift for the coffee lover in your life, or as a treat for yourself. Hurry, this exclusive collection won't last long!