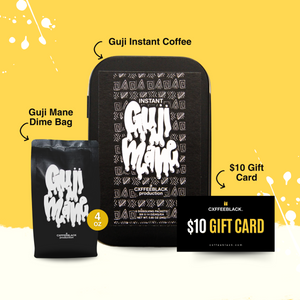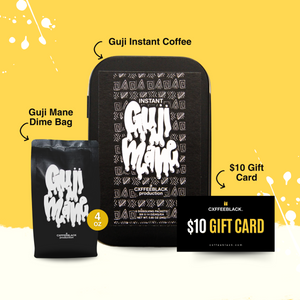 Limited Edition 'Cxffee Black Sampler'
Dive into the exquisite world of premium coffee with our exclusive 'Cxffee Black Sampler'. This limited-time offer is designed for both seasoned coffee lovers and newcomers alike, giving you a taste of our best without breaking the bank.
What's Included:
4oz 'Dime Bag' of Guji Mane: Start your journey with a 4oz sample of our renowned "Guji Mane" blend. This best-seller is celebrated for its rich, complex flavors that tantalize the taste buds, offering a truly gourmet coffee experience.

Guji Instant Coffee: Convenience meets quality. Get a package of our Guji Instant Coffee, perfect for those busy mornings or when you're on the move. Just add hot water and savor the same premium taste in an instant.

$10 Credit for Your Next Purchase: We're not just giving you a taste; we're investing in your coffee future. Enjoy a $10 credit to use on your next purchase with us. Whether it's another bag of "Guji Mane" or something new, the choice is yours.
Special Offer: Just $25! (Originally $36)
This 'Cxffee Black Sampler' is a steal at only $25, originally valued at $36. It's the perfect way to introduce yourself or a loved one to the finer side of coffee. But hurry - this bundle is available for a limited time and quantities are limited. Buy it before it's gone and elevate your coffee game!