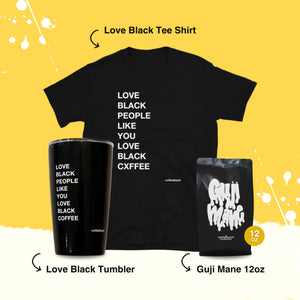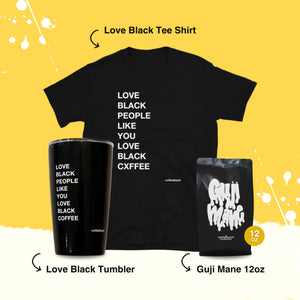 Celebrate a powerful message and indulge in exceptional coffee with our 'Love Black' Bundle. This ultimate best-selling gift set is a tribute to both quality and purpose, designed for those who appreciate great coffee and meaningful statements.
What's Inside:
Choice of 'Love Black' T-Shirt: Select from our range of best-selling 'Love Black' T-shirts. Each shirt is more than just a piece of clothing; it's a statement of support and unity. Comfortable, stylish, and impactful, these T-shirts are designed to make a statement while providing everyday comfort.

'Love Black' Tumbler: Sip your coffee with pride from our 'Love Black' Tumbler. Durable, stylish, and perfect for keeping your coffee at the right temperature, this tumbler is a daily reminder of the message you support.

12oz Bag of Guji Mane Coffee: The heart of this bundle - a 12oz bag of our famous "Guji Mane" coffee. Known for its rich flavor profile and aromatic excellence, this coffee is the perfect way to start your day or enjoy a moment of peaceful indulgence.
The Perfect Gift with a Powerful Message
The 'Love Black' Bundle is more than just a collection of items; it's a symbol of love, support, and appreciation for both culture and quality coffee. It's the ideal gift for someone special or a meaningful treat for yourself. Priced attractively and packed with value, this bundle is a best-seller for a reason.
Get yours today and join in the celebration of love and coffee!