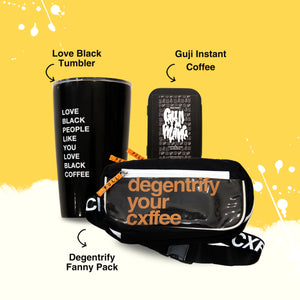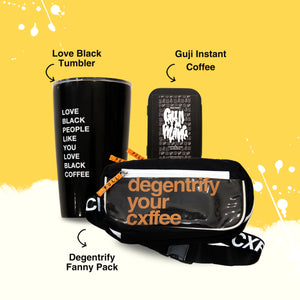 'On-The-Go Bundle': Your Perfect Coffee Companion
Embrace mobility without compromising on your coffee experience with our 'On-The-Go Bundle'. This bundle is the ideal pick for those who live an active lifestyle but still cherish their daily coffee ritual.
What's Included:
'Love Black' Tumbler: Begin your journey with our 'Love Black' Tumbler. This sleek, durable tumbler is not just a container for your favorite brew; it's a statement piece. Keep your coffee hot or cold for hours, and carry a message of unity and love wherever you go.

Guji Mane Instant Coffee Pack: Convenience meets exceptional taste with our Guji Mane Instant Coffee. Savor the rich, full-bodied flavor of our famous Guji Mane blend, now in a convenient instant form. Perfect for busy mornings, travel, or anytime you need a quick, quality coffee fix.

'Degentrify Your Cxffee' Fanny Pack: Carry your coffee essentials in style with our unique 'Degentrify Your Cxffee' fanny pack. This trendy and practical accessory is not just a fashion statement; it's a nod to coffee culture and its roots. Spacious enough to hold your daily essentials, yet compact for effortless mobility.
Grab the Bundle, Embrace the Convenience
The 'On-The-Go Bundle' is your solution for high-quality coffee experiences during your busy lifestyle. Whether you're commuting, traveling, or just enjoying a day out, this bundle ensures you have everything you need for your coffee enjoyment, all while making a positive statement.
Ideal for the coffee enthusiast who's always moving, this bundle is a thoughtful gift or a perfect personal treat. Get it now and transform your on-the-go coffee moments!